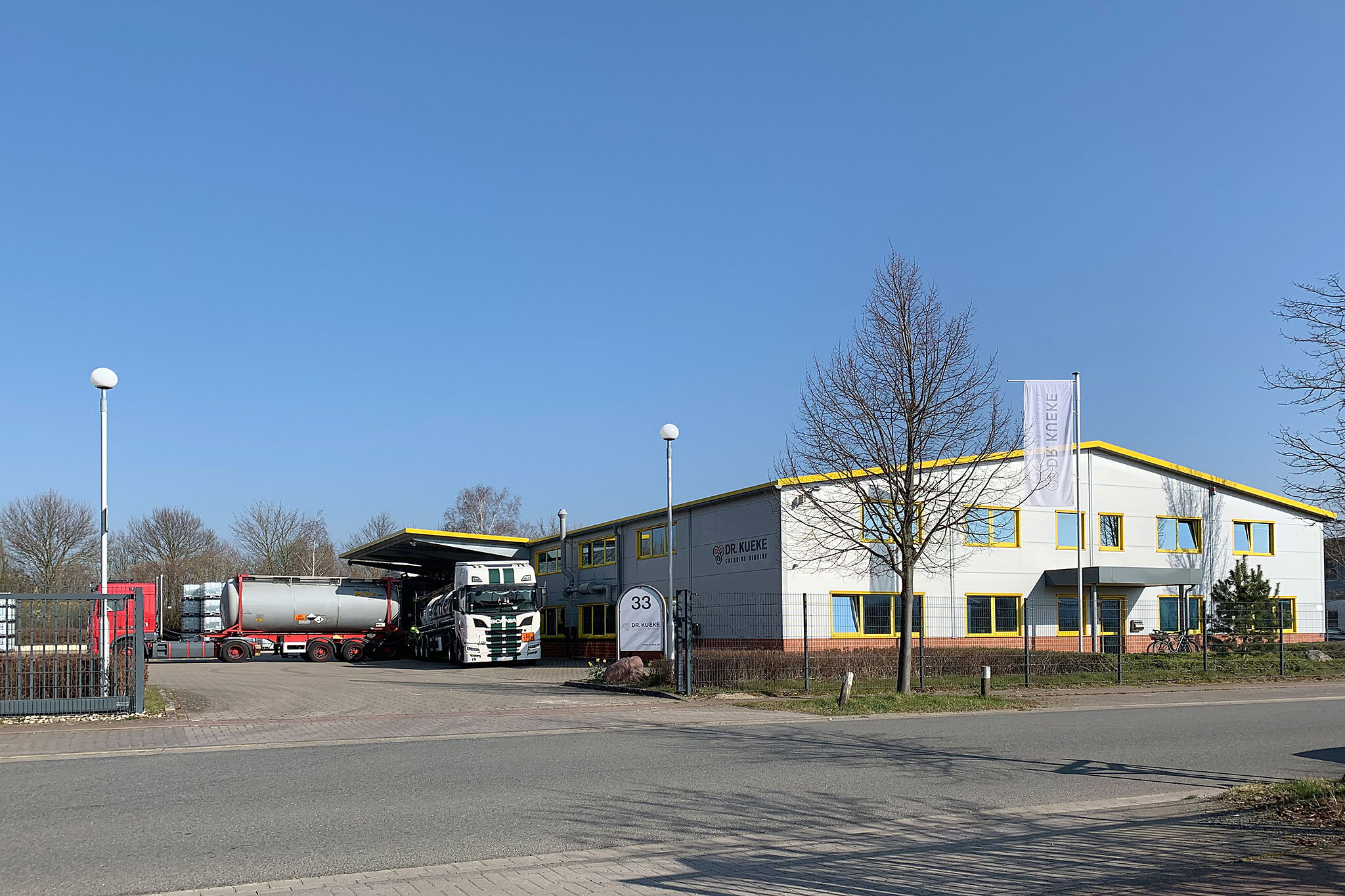 DR. KUEKE GMBH
Founded in 1996 at the Institute for Technical Chemistry at the University of Hannover, we now operate a modern, immission-compliant production plant for biocidal products with an approved daily capacity of 165 tonnes at our headquarters in Bissendorf.
We manufacture different systems for the production of chlorine dioxide. Our daily activities are driven by the need to constantly break new ground and develop products for the benefit of our customers.
Our patent for producing chlorine dioxide according to the peroxodisulphate-chlorite system is the cornerstone of the company. It has enabled material friendly chlorine dioxide solutions to be safely and manually produced for the first time.
This manual production system was successfully converted into standards and regulations. Patented system technology was subsequently developed for the continuous production of chlorine dioxide using our proven process. Ultra-pure, ready-to-use solutions and our single-component system for producing chlorine dioxide in situ complete the portfolio.
We package and supply sodium chlorite solutions as a starting material for use in other manufacturers' chlorine dioxide production plants, in accordance with DIN EN 938. This makes us a full-service provider in this area: Chlorine dioxide comes from Dr. Küke
Aligning technology leadership and regulatory requirements in a way that focuses on the customer is our mission.
CUSTOMERS
When it comes to complex challenges and the economic and professional use of chlorine dioxide, we are the manufacturer and specialist. We place the needs of our customers and how they will benefit at the centre of our processes.
Our customer policy is based on long-term partnerships, mutual appreciation, and transparent pricing in line with the market. We prefer personal dialogue and fair, honest dealings based on shared codes of conduct and values.
SUPPLIERS
As with our customers, we also prefer to maintain long-term partnerships with our suppliers. The goal is to jointly design the purchasing processes as efficiently as possible to ensure the availability and quality of our products over the long term.
EMPLOYEES
Employees are the true foundation of our success. We encourage development, reward performance and create freedom to act.
In-house and external training and further education
Health management (HanseFit, occupational health and safety, bike leasing, etc.)
Flexible Arbeitszeitmodelle in verschiedenen Bereichen
BAV (Company pension plan)
Annual performance-related salary adjustment
QUALITY POLICY
DIN EN ISO 9001 Quality management system
High-quality products
Use of certified raw materials
State-of-the-art production and filling technology
In-house laboratory with gathering of relevant physical and chemical data through ion chromatography, titration, etc.
Continuous traceability through batch number system
ENVIRONMENTAL GUIDELINES
The relevant environmental protection laws, environmental protection regulations and, in addition, Dr. Küke's own company environmental standards are complied with.
Production facility for biocidal products authorised under the Immission Control Act
Emission-free production
The operating procedures and production processes are continuously developed vis-a-vis their environmental compatibility (energy saving, noise protection, logistics, etc.)
Avoiding waste in production
Electrification of the vehicle fleet
Using renewable energy (photovoltaic system)
Introduction of a reusable system for DK-KONT® system components
OCCUPATIONAL HEALTH AND SAFETY
OCCUPATIONAL HEALTH AND SAFETY
Health and safety at work takes absolute priority at all times.
In addition to the safe handling of hazardous substances, we place the highest value on preventing and avoiding injuries by complying with accident prevention regulations, work and operating instructions, as well as through regular plant inspections and employee training. At the same time, we ensure the safe and ergonomic design of the direct working environment throughout the entire company.