THE RIGHT DISINFECTION FOR EVERY AREA
Annex V of the CPD classifies biocidal products in 22 product types. These are then divided into four main areas.
Our products are registered in the main groups "disinfectants" and "preservatives" and can be used in the following areas:

Product types according to BPR:
DISINFECTANTS AND ALGAECIDES PT 2

FOOD AND ANIMAL FEED PT 4

PRESERVATIVES FOR LIQUID-COOLING AND PROCESSING SYSTEMS PT 11
DISINFECTION IN THE INDUSTRIAL, FOOD AND DRINKING WATER SECTOR
Disinfection of cooling tower water and non-potable process systems
Disinfection of cooling tower water and non-potable process systems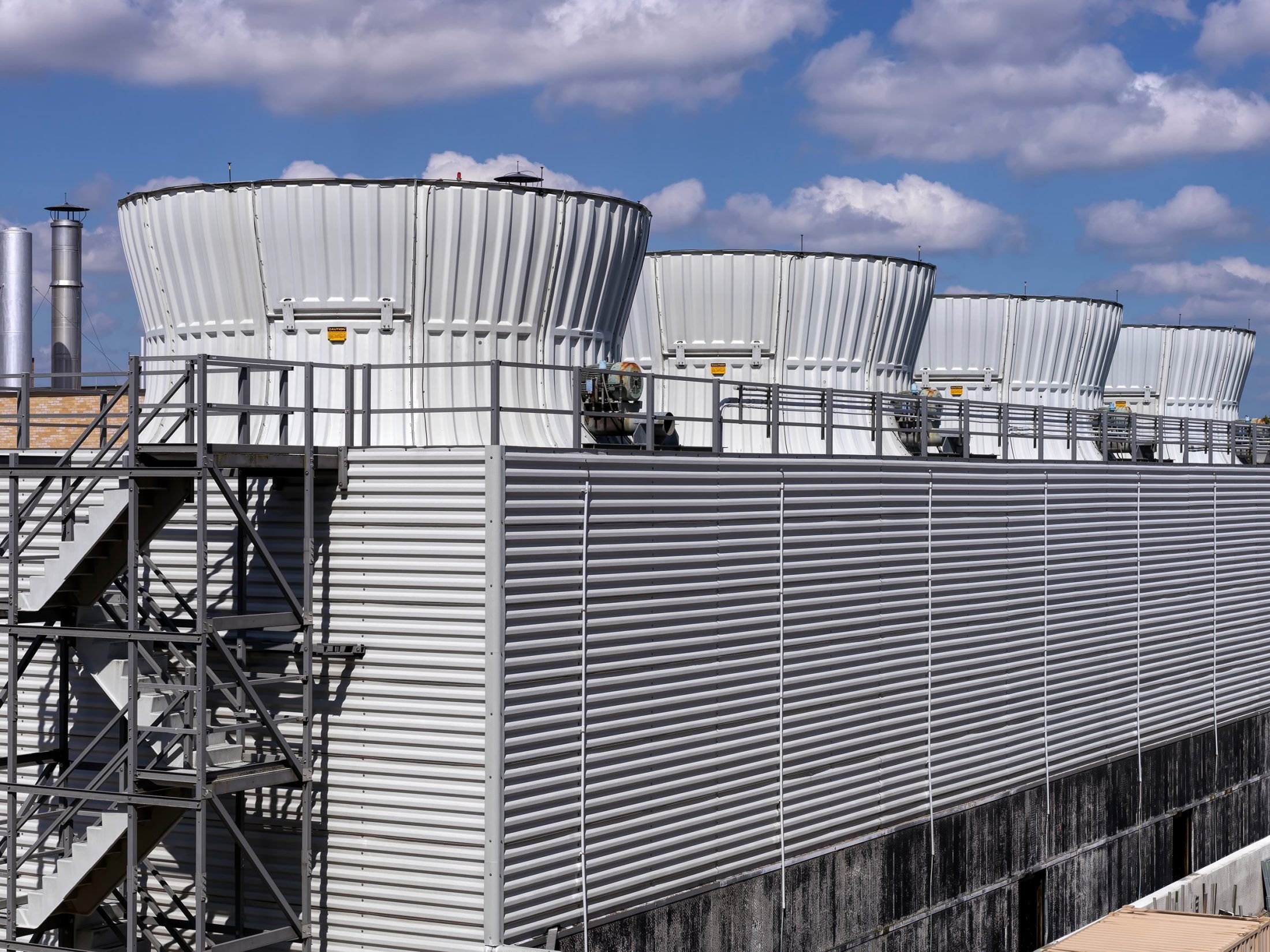 Especially in open cooling water circuits, organic contamination occurs from the ambient air, from the make-up water source or potential process contamination.
The resulting microbiological infestation and the formation of biofilms in cooling systems are controlled by the addition of biocides. Biocides with an oxidative effect can be classified as very effective and the effect is based on the formation of the highest possible redox potential.
The DK-DOX® 1-Component-System has a very high redox potential. This is present over a wide range of pH values up to a maximum of 8.7. As it is electroneutral, it can penetrate organic membranes very well and destroy the enzymes located there in an oxidative and sustainable way as well as penetrate into the biofilms. The result is a complete detachment of the biofilm and thus the restoration of the heat transfer.
Resistance formation is impossible with this oxidative mechanism.
The AOX formation when using DK-DOX® 1-Component-System is far lower than when using other halogen-containing chemicals. The same applies to the corrosive properties.
Effective against Legionella according to DIN EN 13623
Killing of Pseudomonas
Killing of algae
Disinfection in the food and feed area

Chlorine dioxide has been considered an effective disinfectant in the brewing and beverage industry for decades. However, it is only thanks to the production by DR. KUEKE of a material friendly chlorine dioxide in the peroxodisulphate chlorite process that we can forget about the negative properties of conventionally produced chlorine dioxide.
DK-DOX® chlorine dioxide is being used more and more because of its numerous positive properties. It is the product of choice when it comes to complete disinfection along the entire process chain.
Complies with the old and new TrinkwV (2023) and Ö-NORM 5879-3
Killing of bacteria, viruses, fungi, incl. pediococci, lactobacilli and yeasts
Material friendly (up to 2000 times less corrosive compared to acid-based systems)
Chlorine-free
High stability of 6 weeks (up to 50 times more stable compared to acid-based systems)
Low chlorate / far below maximum chlorate value according to Section 20 list of the Drinking Water Regulation
Harmless as far as occupational safety is concerned as no hydrochloric acid used and no danger of explosion
Safe disinfection, as there are no known resistances
Possible applications in any necessary concentration with DK-DOX® chlorine dioxide:
in drinking water
in the bottle wasching
on conveyor systems and conveyor belts
in the pasteuriser / and the connected cooling system
at the filler flushing
in the CIP process
and many more
Disinfection of drinking water for humans and animals

Drinking water, storage tanks and pipeline systems can contain pathogenic microorganisms.
Under unfavourable conditions, dangerous germs such as Legionella can multiply and pose a potential risk. The problem is particularly exacerbated by biofilm growth in water distribution systems.
With the DK-DOX® 2-Component-System, a particularly material-friendly product is available for drinking water disinfection, but also for basic disinfection of water distribution systems and the associated removal of biofilm.
According to the new W224 regulations, only the chlorite/peroxodisulphate process may be used for disinfecting drinking water with a chlorine dioxide product in the manual mixing process.
DVGW worksheet W 224 and ÖNORM 5879-3 as well as Codex chapter B1 Drinking Water
Disinfection of drinking water installations
Cleaning of pipeline systems in the case of legionella
Removal of biofilm from water distribution systems
Disinfection of water distribution systems, pipes and tanks

The disinfection of process water makes sense in many processes. Especially when it comes to reusing the process water – keyword "Zero Liquid Discharge". Here it is particularly important to ensure that it is free of harmful microorganisms and meets the requirements of the specific process.
Depending on the application, we recommend one of our different chlorine dioxide solutions with its corresponding strengths. With our different chlorine dioxide systems, there is not only sustainable disinfection of process water and all water-bearing pipelines, but it is also the means for powerful biofilm destruction in water distribution systems and for removing biofilm from piping systems.
Disinfection of the process water with depot effect in the entire system up to use in individual applications, e.g.
– Use in paint shops in the automotive industry
– Rinsing baths in glass production
– Cooling sections in the plastic injection moulding process
Disinfection of ion exchangers
Biofilm decomposition and algae destruction in process and industrial water
Oxidizing disinfectant for waste water

There are always cases where wastewater has to be treated or disinfected. Be it to comply with the discharge limits or to reuse the wastewater.
DK-DOX® 1-Component-System was tested according to DIN EN 13623:2010 and found to be bactericidal against Legionella pneumophila. Germs cannot adapt due to the non-specific way in which the product works.
Thanks to the high concentrations of the product, it is possible to produce a sufficient amount of chlorine dioxide directly in the water to be treated using small dosing quantities.
Suitable for use in a pH value range of between 5 and 8,7 for the following applications, among others:
Killing microorganisms
Oxidation of trace substances
Removing odours
Reducing COD/TOC/BOD
Desulfurisation
Increasing redox potential
Detoxification (by oxidation and hydrolysis of e.g. cyanides in ammonium compounds and carbon dioxide. Nitrite is oxidised to nitrate, sulfide – e.g. in hydrogen sulfide – is oxidised to sulfate.)
Disinfection of cattle water and liquid feeding stations

The DK-DOX® 2-Component-System not only kills dangerous germs in drinking water, it also eliminates harmful biofilm in all drinking water systems. Disinfecting drinking water with DK-DOX® chlorine dioxide leaves behind no accumulation of chlorine dioxide itself nor of any by-products from animal-derived foods.
The application in the drinking water contributes to the welfare of the animal. Water of the highest quality increases the fertility and performance rates of the animals, while also reducing mortality rates and the use of antibiotics. Due to the absence of chlorine (= perceived by almost every animal), drinking behaviour is not affected.
Other potential applications:
Disinfection of pipes and water distribution systems according to DVGW worksheet W291
Air disinfection
Spray disinfection on walls and floors
Disinfection of liquid feeding systems
Odor elimination and surface disinfection in rooms and ventilation systems
Safe disinfection of surfaces

DK-DOX® Ready-to-use solution < 0,3% is a material-friendly, ready-to-use chlorine dioxide solution without any by-products, which can be easily applied to the surfaces to be disinfected. DK-DOX® Ready-to-use solution < 0,3% is highly effective against bacteria, fungi, yeasts, viruses and spores.
Highly effective between 500 ppm and 1500 ppm. Easy application by spraying.
For example, in use in:
Catering industry
Food industry
Retail
Wellness sector
For disinfection of surfaces and system components in the drinking water sector according to DVGW worksheet W291
Odor elimination and surface disinfection in rooms and ventilation systems

With the help of cold foggers, DK-DOX® Ready-to-use solution < 0.3% combats germs, viruses, bacteria, algae and fungi in closed rooms, even in places that are difficult to access. Mould spores, for example, can be effectively eliminated. DK-DOX® Ready-to-use solution < 0.3% is also used effectively to combat unpleasant odours.
With 1000 ppm to 1500 ppm active substance concentration. Application by cold fogger.
Disinfects the following, among others:
Rooms
Stables
Vehicles
Containers
Carriages
Aircraft cabins
Do you have any questions about our products?
DISINFECTION FOR LEISURE, POOL AND POND FACILITIES
Drinking water and basic disinfection in mobile homes, caravans and boats.
Disinfection of whirlpools, pool water, filters, surge chambers and overflow channels