DK-DOX® AKTIV BASIC
& BASIC MOBIL
READY-TO-USE SOLUTION FOR DRINKING WATER AND BASIC DISINFECTION FOR MOTORHOMES, CARAVANS & BOATS
Travelling by motorhome, caravan or boat doesn't mean you have to go without hygienically safe drinking water.
With DK-DOX® AKTIV BASIC and DK-DOX® AKTIV MOBIL, safe drinking water is available everywhere at all times. Highly effective chlorine dioxide – easy to handle and dose.
Compliant with the Drinking Water Regulation.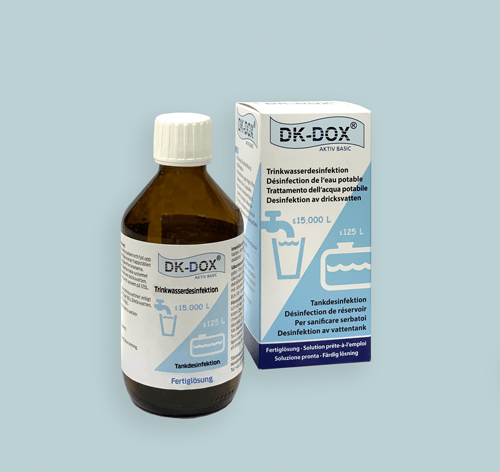 DK-DOX® AKTIV BASIC
For basic disinfection of tanks and pipes
Eliminates odours
Kills bacteria, viruses, fungi, algae and legionella
Free from heavy metals such as silver, among others
Odourless and tasteless in application concentrations
Gentle on materials
No need to move the vehicle
No need to rinse with drinking water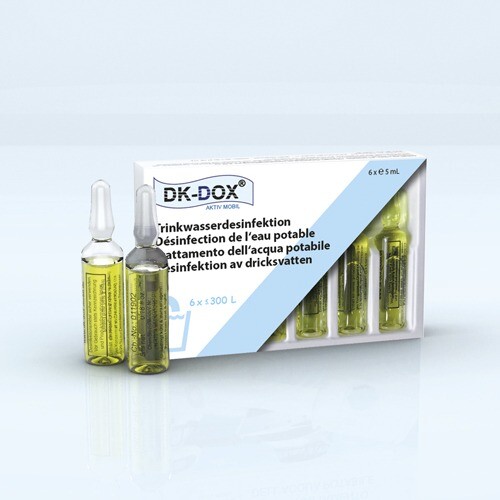 DK-DOX® AKTIV MOBIL
For disinfecting drinking water on the road
Ready-to-use single portions in a practical glass ampoule
Kills bacteria, viruses, fungi, algae and legionella
Eliminates odours
Free from heavy metals such as silver, among others
Odourless and tasteless in application concentrations
Gentle on materials
Distribution by us only to the specialised trade